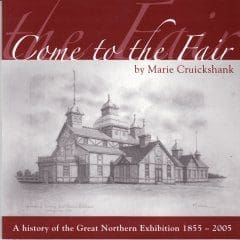 Our fair started out on property in Duntroon in 1855, later moving to Collingwood and since 1984, on Fairgrounds Road in Clearview Township. One of the Anniversary projects was establishing a plaque, at each of the locations with a brief History of the time spent at each. All this and more will be available for easy reading in the GNE History Book, researched and compiled by Marie Cruikshank, edited by Dan Needles and available for sale.
To mark it's 150th anniversary, the Collingwood Agricultural Society published Come to the Fair a history of the GNE from its beginnings in 1855 to the present day.
The author is local writer and library archivist, Marie Cruickshank. After many hours searching through newspaper archives, correspondence and municipal records, Marie has written a lively and readable account of one of Canada's oldest continuous fall fairs, from its humble beginnings in the fall celebrations held in Nottawasaga Township in pioneer days, through the Collingwood years (1883 to 1983), to the move in 1984 to new quarters in Clearview Township and the modern facilities it enjoys today.
It is an engaging story, featuring colourful characters, disastrous fires, keen municipal rivalries and spirited public debate as the volunteers strive to keep the organization dynamic and strong through world wars, depression and major social change. The GNE is the Oldest public service organization in the Collingwood and Clearview area, with a rich and varied history that mirrors the progress of the community around it.
The cover features a sketch by Collingwood artist Nick Hodgson of the magnificent Exhibition Hall that stood for only two years on the fairgrounds in Collingwood before it was reduced to ashes in a devastating fire in 1885.
"Come to the Fair", by Marie Cruickshank, is now available from anyone on our 'Contact' page.
Proceeds go to the Collingwood Agricultural Society.
Sponsors: Tri-Namic Printing and Dan Needles